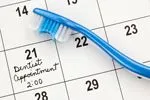 There are several ways to request an appointment at Minton Family Dental Care. You may call us at 423-626-7070, e-mail us by clicking the " Request an Appointment" link anywhere you see it on this website or by stopping by the office during work hours. Note: While we make every effort to accommodate your requested day/time for an appointment, the day/time may not be available. Our Scheduling Coordinator will contact you, once we receive your request, to confirm or set your appointment day/time. Please have your dental insurance information available and let us know when insurance information changes.
We see our patients only by appointment. These appointments are important to us, and we work extremely hard to stay on schedule. In order to accomplish this goal, we inform you often of your appointments, we ask you to arrive 15 minutes early, and we request that you notify us no later than two working days prior to the appointment concerning any necessary adjustments.
We always welcome new patients, and we treat children whenever possible.